These guidelines outline the core visual language for the Williams College brand identity. They offer direction, both general to specific, regarding the use and implementation of various brand components, such as our logo, color, typography and other graphic devices.


The strength of our visual identity is dependent on how well it's understood. Use these guidelines to ensure that each piece of branded material for Williams is created with great intention and to the highest standard.


At the end of the day, guidelines are just that: a guide. Use this document as starting place, but not a means to the end.
Informed by extensive, immersive research into the college, including conversations with a wide range of constituents on campus and beyond, the strategic brand platform captures the essence of what makes Williams distinctively compelling. Everything in our visual identity is a result of this platform.
Invigorated by Connectedness
Character
Vigorous
Undaunted
Textured
Caring
Sociable
Position
For exceptionally driven, multifaceted students who seek to be full participants in their education…
… Williams is the immersive, relationship-centered liberal arts college…
… that fosters a lifelong capacity to thrive in an ever-changing world by stimulating meaningful self-exploration, deep community connections, and
crucial skill-building.


Key Pillars
Diversity of multifaceted contributors
Immersive, concentrated experience
Preeminent professor-mentors
Active, integrative learning
Robust participation culture
Caring, collaborative community
Authentic self-exploration
Dynamo alumni network
At its heart, our visual identity is a reflection of the people, place, and spirit of Williams College.


Considering how our peers have represented our college in the past allows us to appreciate the present and plan for the future.
Place
Defining what makes Williams so special can be hard to articulate. Ultimately, our community expressed deep admiration for the physical location of our college.


Understanding the visual language of Williamstown, our campus and the surrounding Berkshire region was imperative to this process.
Spirit
Williams has always had a unique approach to communication. Below, we can see the eclectic and visually rich examples of Williams materials.


We call this spirit: typographic diversity.
People
The backbone of Williams College—today, and into the future.


The diversity of our community is what makes us who we are—the students, faculty, staff, alumni and partners.
As an extension of our history and who Williams is today, we've developed a typographic identity that embodies our core characteristics.
Eph Type Family
Our typographic language consists of four custom fonts contained within the "Eph Type Family"—each style represents a distinct Williams characteristic, as described below.
Eph Serif: Preeminent
Sophisticated, traditional and literary, Eph Serif is the voice that underscores Williams' distinguished place among the country's most prominent academic institutions.
Eph Slab: Undaunted
Bold and straightforward, unique in its peer set and tied to Williams' typographic history, Eph Slab showcases Williams' confidence in its individuality.
Eph Gothic: Caring
Simple, warm and soulful, Eph Gothic is the welcoming and supportive voice of Williams' caring community.
Eph Octic: Vigorous
Strong, geometric and full of energy, Eph Octic is the voice of Williams' active, dynamic and invigorating spirit.
Type Relationships
To help explain the different styles and each of their "volumes" (Light, Book, Bold), this matrix gives an overview of the family and visualizes their connectedness.


As indicated by the yellow circles, Eph Slab is the primary typographic voice of our identity.
Primary expression
Our primary typeface is Eph Slab, commonly set in the Regular weight. Its primary use is for large typographic expressions, as the core representation of Williams College.


Other weights (Light and Bold) of Eph Slab may be used when necessary.
Text typefaces
Our supporting "text" typefaces are Eph Serif and Eph Gothic. Both of these typefaces can and should be used for longer-form text applications. They may also be used large and expressively, if needed.


Other weights of Eph Serif and Eph Gothic may be used when necessary.
Supporting typefaces
Eph Octic is a typeface that should be used to support more expressive components of our identity. This does not mean it always needs to be big and loud, but it's the more stylized font of the group.


Other weights of Eph Octic may be used when necessary.
Exceptions
While there are guidelines around how to use our typefaces together, there is also a large amount of freedom and exception. The Eph Family is meant to work together, at any size, scale and/or proportion.


Fewer limitations, more opportunities.
Type in use
"Choice" is the root quality of our typographic family. Font styles can be used together, either in proximity or overlapping, in any given circumstance.


The images below are a few examples of how our four fonts can be used to varying degrees of expression.
These examples are for exhibition purposes only and are not final design applications. Use them as a reference when creating new materials.
Our wordmark, or logo, is the most consistent component of our identity. It is set in Eph Slab Regular and can be displayed in a "short" or "full" way..
Full wordmark
To be used when speaking "outside" of our Williams community, e.g. recruitment, website, partnerships, press.
Short wordmark
To be used when speaking "inside" of our Williams community, e.g. internal memos, merchandise, campus maps, signage.
Wordmark on color
The following figure/ground relationships should be followed. These pairings apply to both variations of our wordmark.
Purple wordmark on white background.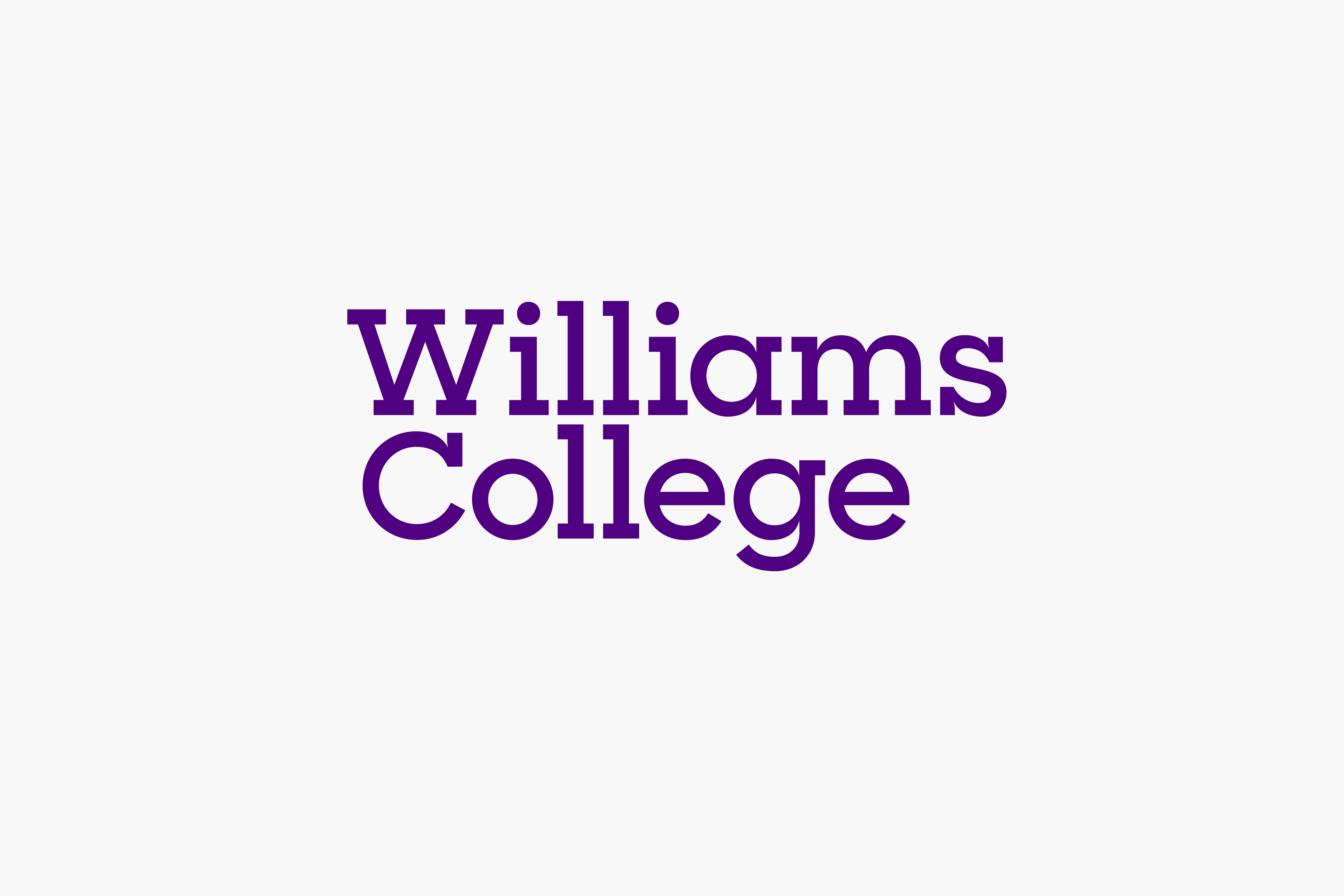 White wordmark on purple background.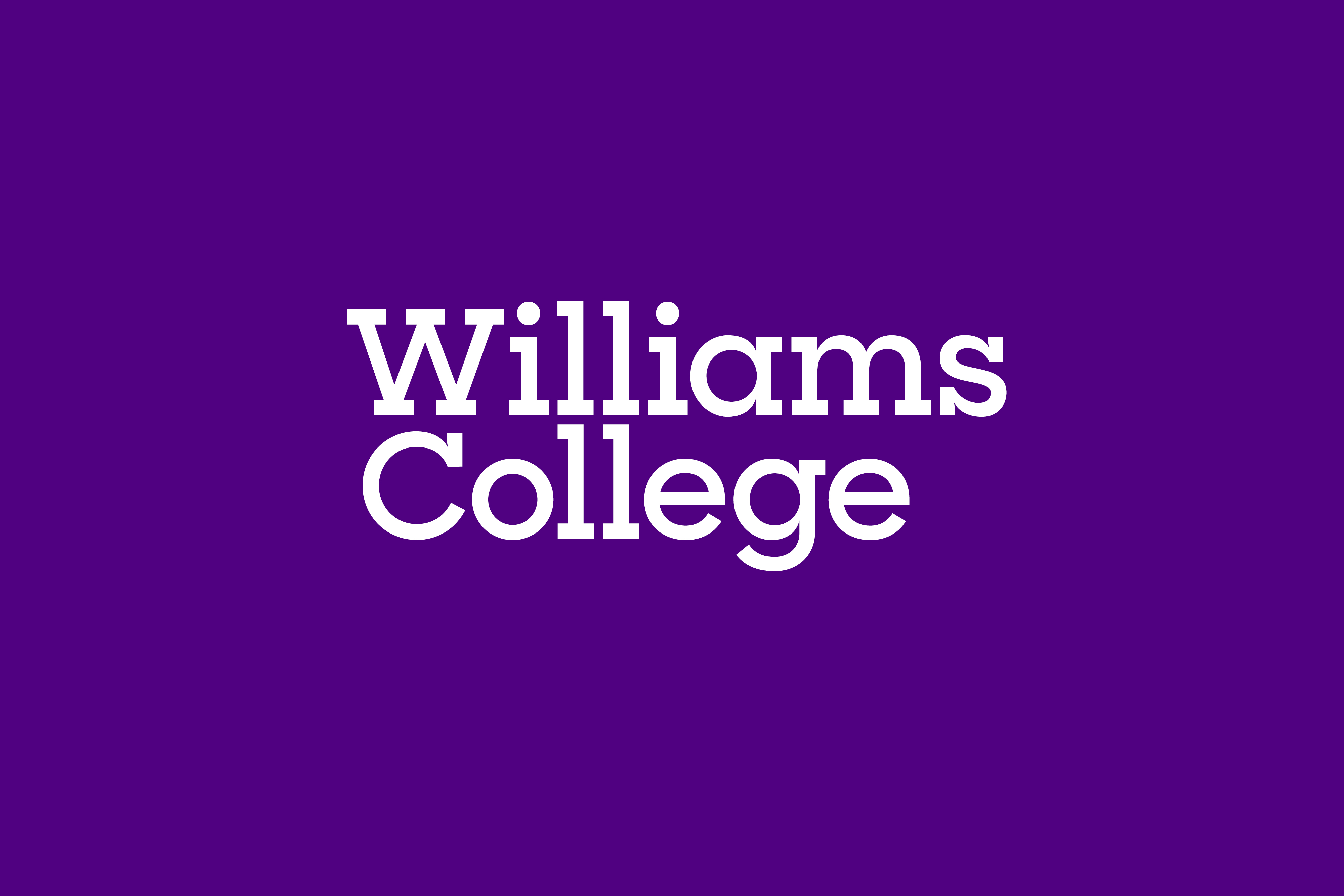 In more limited instances, gold may be introduced into the wordmark and/or background.
Gold logotype on purple background.
Purple logotype on gold background.
Logotype don'ts
Alterations to the wordmark are strictly prohibited. Below are examples of these violations.


These apply to all other brand components.
Don't introduce a new typeface
Don't use unapproved colors
Don't resize the elements
Wordmark alignment
When aligning the wordmark (full or short) to margins or other objects, please follow the following guidance.


Blue dots and lines indicate the alignment surfaces on horizontal and vertical axis.
Small application: business card
Large application: note card
Use best judgment when aligning the logo—ultimately, you want even optical margins on the left and top sides (and sometimes the right). There may be exceptions to the rule based on application.
Social icon
The Williams College social media icon is represented by the uppercase letter in our name, set in Eph Slab Book. The white W on a purple background is the official college icon.


Additional icons may be used and created under the direction of the Office of Communications. Contact the OOC for details.
Body text should be set in Eph Gothic Regular. If brand fonts are not available, the Helvetica system font should be used.
For a full list of stationery templates and formats, please contact the Office of Communications.
Color plays a critical part in the success of a consistent visual language and should be applied with great care.
"Let this royal purple be the Williams color, and may it bring you the victory over Harvard."
The words that gave Williams College its colors, said by Jennie Jerome in 1865, who would eventually become the mother of Winston Churchill
Primary palette
Our primary color palette is made up of four colors, detailed below.
Extended palette
An extended palette that complements our primary colors
Color proportion
When using the brand colors in any context, the optical ratio below should be followed. All of the colors do not (and most times, should not) need to be used at the same time.
As a way to link the vast network of Williams' departments, groups and activities to our identity, a three-tier brand architecture system has been devised.
Connected


Connecting all of our 60+ areas of study to the Williams identity
In a website application, for example, the area of study can also disconnect from the wordmark, while remaining in close proximity.
Connected alternate
An alternate configuration can be composed as follows, where the connected entity has the same typographic hierarchy as Williams.
Informative
Not everything needs a logo. For the majority of our offices, departments and related activities, an information-based architecture can be applied.


There is no template for this configuration, as it is composed simply of our wordmark and text information, placed in proximity to each other.
Shown on letterhead, for example.
Shown in the footer of our website, as another example
Related
Similar to the connected architecture, a third way of creating a relationship between the college and any official initiative is simply by introducing a color to the name.
Again, deconstructed in places like the website
Summary
Three tiers of Williams brand architecture
Future extensions
As we think about the future of our identity and how it can grow to more creative places, an attempt has been developed that visualizes a potential world of unique brand extensions.


This area of development is still in progress and will continue to evolve as the identity is implemented.
Without the people, place and spirit of Williams, our brand is nothing. Photography helps us bring that to life.
Approach
Our approach to photography follows the same logic as our typography—there are "expressions" and "volumes."


These are not all-inclusive categories of what photography can be—they're a perspective on how to consistently apply imagery in any context.
Application
Following the brand platform, our identity (and photography) should express range, diversity and texture.


Examples of how to pair "rousing" images with their "composed" and "focused" counterparts are shown below.
Our beloved purple cow has received a makeover.
Ephelia history
Like the seal and other parts of our identity, Ephelia has had a long and diverse history. While we're still eager to have individualized renditions of Ephelia, a new drawing has been created to support a cohesive brand identity.
Our previous Ephelia, shown on the right, won't be eliminated from the brand landscape; rather, an alternative is being added.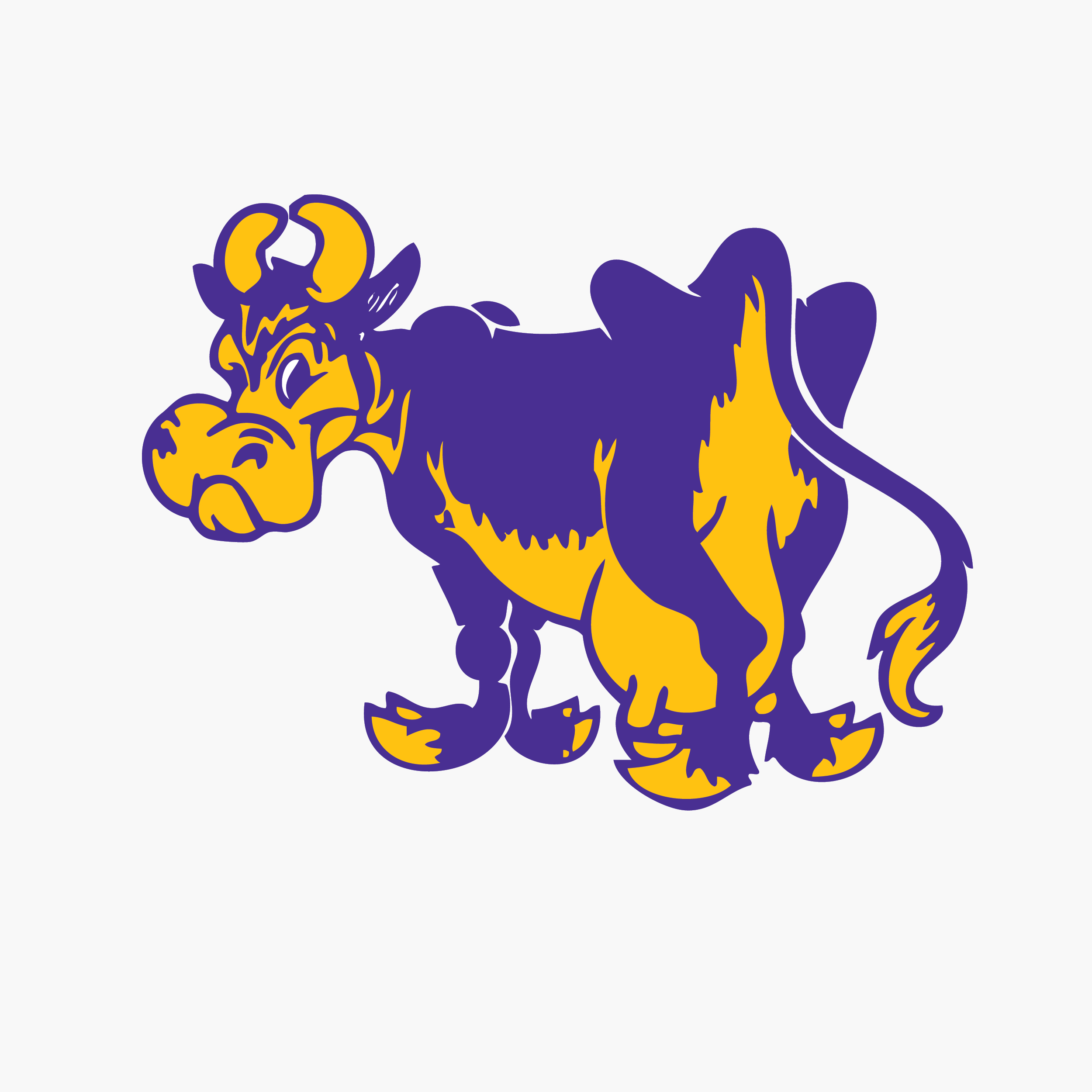 Ephelia
A new and improved interpretation of Ephelia, including additional positions, expressions and movement!


Ephelia pattern
As an extension of Ephelia, her cow spots are a new graphic element that can be used.
Ephelia pattern variations
Following the theme, the cow spots can be used at various sizes.


There are no strict guidelines around which scale to use—see the below applications for examples.
Ephelia in use
Large, small and everything in between—Ephelia and her spots are the most playful component of our identity.
As a way to extend the Williams identity, we are exploring possible ideas and applications for the college seal, Athletics, and the Society of Alumni.


More work will need to be done before files can be made available for download. If you have questions contact the
Office of Communications
.
Insignia
A secondary drawing of Ephelia has been developed for more formal occasions, such as the Williams Society of Alumni.


The insignia includes Williams' initials, along with the founding year of our Society of Alumni—the oldest continuing alumni organization in North America!
Insignia variations
In different contexts, additional insignia variations can be used.


Please do not modify the color combinations of our Alumni insignia.
Year Insignia
An additional function of the insignia is the "year insignia," which includes the graduating year of any class from Williams.
Logotype
The Alumni insignia can be paired with a new wordmark—set in Eph Gothic Bold—to create the Alumni Network logotype.


Do not pair other insignia variations with the wordmark.
In use
Williams Alumni Network brand materials in use.
A visual overview of the Williams College brand identity. Remember, this is a foundation to build on, not a sculpture set in stone.
Digital Letterhead
Be sure to log in to your Williams Google Account first.
For additional questions or guidance,
please contact:
Meike Kaan
Associate Vice President
Office of Communications
(413) 597-3178
mck2@williams.edu
williams.edu